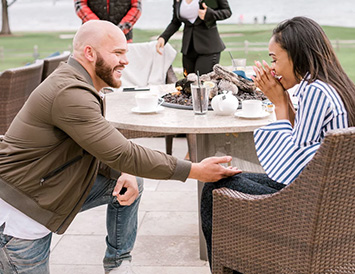 After a year of dating, Michelle Williams is engaged to boyfriend Chad Johnson.

After meeting at a spiritual retreat in March of 2017. Williams, 37, and Johnson, 40, kept in touch, building a strong interracial relationship.
They took their whirlwind romance public in July; on March 21, Johnson popped the question with a stunning 5-carat engagement ring; and the happy interracial couple plan to wed this summer.
Johnson whose parents divorced when he was 13 has helped raise his two nephews, who are 15 and 16 years old. Starting a family, he says, has always been a priority. "The biggest desire in my life is to have a wife and kids."
"I'm white, she's black," says Johnson. "What a special time for our relationship to be on display in that respect with the tension in the world and in our country."
"Don't lose hope in love," says Williams. "I do think you should not focus so much that if you're not in love that you get depressed about it. … Just don't lose hope. But definitely be doing what you can do to make yourself a better person for the person that possibly is on the way for you."